Popular Andersen Fairy Tales Animal Stories Poetry for Kids Short Stories Categories list

Eskimo Stories
Animal Stories Of The North
Translated by Fainna Solasko
freebooksforkids.net
Illustrated by Y.Rachov
You're Luckier Than We Are
An Eskimo Story told by Kivagme
ld Gopher Sikik lived in the tundra. Sikik was envious, mean and more stuck-up than any other three gophers. One day she decided to amaze her neighbors. She'd show them how rich and smart she was. Sikik told the gophers and mice they were all invited to a song festival. She prepared some food and waited for her guests.
Although the neighbors did not especially like her, they came all the same. Sikik treated them to the food, enjoyed some herself and then said,
"I'm going to sing now, and I want you to join in. If you try hard, it should sound very nice." At this she began to sing as loudly as she could.
The guests winced and whispered among themselves:
"How awful!"
"Sikik can't carry a tune!"
"If that's the best you can do, it's best not to sing at all!"
But there was no stopping Sikik.
The guests exchanged glances and began beating their tambourines, whistling and squeaking as loudly as they could in order to drown out her awful singing.
"What're you doing?" Sikik shouted angrily. "You're making so much noise I can't hear myself sing!"
"Then you're luckier than we are," the eldest of the guests replied, put down her tambourine and went home.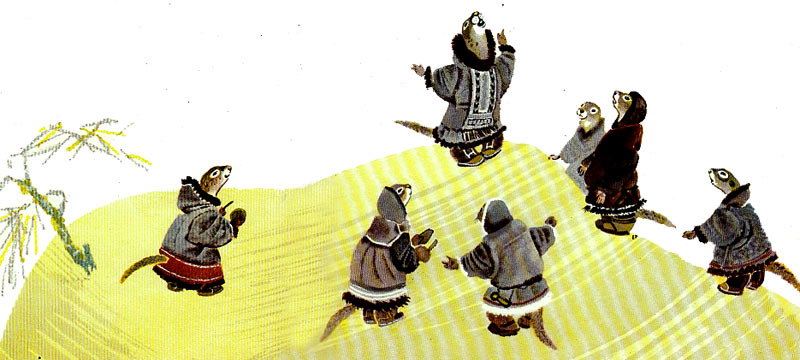 Contact us if you have any questions or see any mistakes.
© 2019-2022 Freebooksforkids.net