Popular Andersen Fairy Tales Animal Stories Poetry for Kids Short Stories Categories list

Eskimo Stories
Animal Stories Of The North
Translated by Fainna Solasko
freebooksforkids.net
Illustrated by Y.Rachov
Mouse The Braggart
An Eskimo Story told by Kivagme
Vuvyltu the Mouse was small, but liked to boast. She saw Drake and said, "Look at me: I can walk and scamper, and dig a burrow, and put away food for the winter, but all you can do is swim and fly."
"That's right," said Gopher who happened to be nearby, "except that you walk slowly, can't run very far, dig shallow burrows and just barely have enough food put away to last you the winter. So even though you can do four things, you can't do a single one properly."
Mouse the braggart said nothing. What could she say?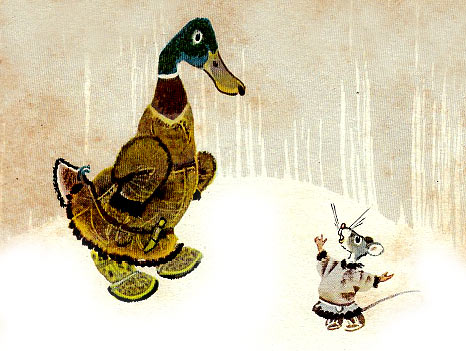 Contact us if you have any questions or see any mistakes.
© 2019-2022 Freebooksforkids.net